Cam Girl Starter Kit ​: Best equipment
So you have decided to enter the profitable profession of web cam modelling. Great! Good for you.
Now there are some preparations that you need to do before your show starts. Visiting a salon and buying new clothes are obviously one of them, but not the only ones. You will also need to make sure that you have the right equipment for the job. Do not worry; there is nothing too crazy that you will need to buy. However, if your equipment is not up to the mark, your broadcast could get of substandard quality, because of which your earnings would take a hit.
To start your career as a web cam model, you will need the following as a minimum:
Cam girl starter kit: Computer
First, you need to decide on whether you want a desktop computer or a laptop
A desktop computer typically is not as expensive as a laptop with the same functionalities, and it can also be upgraded. While, laptops are quite difficult, costly; but they are more portable. Therefore, you should go with a laptop if you are not planning to sit and film in just one room.
No matter whether you go with a laptop or desktop, make sure that it is compatible with HD-video and appropriate for multimedia.
Some minimum requirements are –
Minimum 19-inch LCD monitor
SSD hard drive
Intel Core i7 Processor
Minimum At least 4 GB RAM
If you have decided to go with a desktop computer, it a better option to go with a wireless keyboard and mouse if you are intending to move around a lot.
Cam girl starter kit: Web Cam
To make it big in the webcam business, you should own a professional video camera with an optical zoom and a remote control function. However, the price range of most of the professional web cameras start at $500, therefore, cameras from Logitech are a better option. Once you have set up a stand for the camera, you will have made a complete film studio at home.
Cam girl stater kit: Internet Speed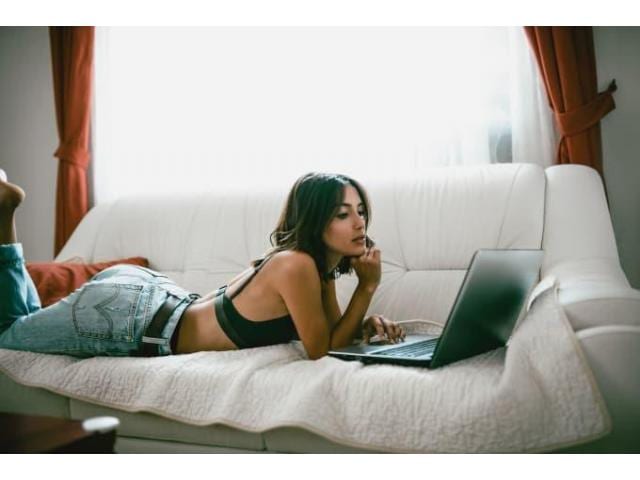 Internet Connection
A vital constrain for web cam modelling is a stable Internet connection. The top kind of connection for this work is fibre, or as a minimum a connection to a local network through cable.
Cam girl starter kit: Lighting
When it comes to having the perfect lights for your sessions, the daily regular lights won't be enough.
After going through numerous complex lighting guides, you must be convinced that it is impossible to create a good lighting environment at home. You must be of the view that the perfect lighting can be achieved only in the professional studios using expensive equipment.
Don't worry! The good news is that the quality lighting can be arranged at a much lower cost and that too at your home. For this, you will require a simple 3-point lighting arrangement.
You should start by buying three lights in Umbrella Lighting Kit and make sure that the main light is the brightest.
You should not forget about light bulbs and make sure to use only LED bulbs to get soft lighting.
Now, as you have got an idea about what all equipment you need before your grand opening it is best that you buy them as soon as possible. If you do not have enough money to buy all the equipment at once, you can save money and buy them later.
Once you have bought everything you require, it is actually is easy to make a studio for your webcam modelling. With the right gear, you can use imagination, appeal, and talent to achieve your goal!